President Akufo-Addo has been hailed by the international community for his powerful address to the nation in which he made a profound quote, which succinctly underlined the dangers of Coronavirus and the need for all to join hands to stop its spread.
Addressing Ghanaians during his regular COVID-19 updates, President Akufo-Addo stressed on the effects of the virus on the economy, and assured Ghanaians his government has proven it has what it takes to turn around a crisis-hit economy.
However, on the devastating effects of Coronavirus on human lives, the President cautioned that the government cannot bring back lives and urged Ghanaians to adhere strictly to all preventive measures to help defeat the virus.
"We (government) know how to bring the economy back to life. What we do not know is how to bring people back to life," President Akufo-Addo cautioned during his address.
The above quote has gone viral on the international scene, earning President Akufo-Addo lots of commendations for his wits and leadership.
The Director General of World Health Organisation (WHO) Tedros Adhanom Ghebreyesus led international eulogies for President Akufo-Addo, describing the quote as "powerful".
"Thank you for sending such a powerful message to the world, my brother @NAkufoAddo, President of #Ghana. Together, for a healthier, safer, fairer world! Together against #COVID19!," the WHO Director General wrote on his Twitter page.
The Chairperson of Global Public Health, Devi Sridhar also commended President Akufo-Addo for showing leadership.
She posted a picture of the President's quote on her twitter handle and added the comment: "President of Ghana #leadership."
Another person who was so impressed by President Akufo-Addo's touching quote was globally renowned broadcaster and Arsenal fan, Piers Morgan.
The former CNN journalist, who now hosts ITV's Good Morning Britain, tweeted about President Akufo-Addo's quote and also discussed it on his television show.
"President of Ghana perfectly spells out the bottom line," wrote Piers Morgan on his twitter page alongside a picture of the quote.
On Good Morning Britain, Piers Morgan further praised President Akufo-Addo after reading the President's message on air.
Piers Morgan added that President Akufo-Addo's simple message is the kind of message that should get through to people at this time.
German Science journalist, Kai Hubferschmidt also quoted President Akufo-Addo's message on Twitter and and added: "Ghana's President Nana Akufo-Addo with admirably clear messaging on #covid19 and economy. Plenty to learn from everywhere in the world if we listen. We're in this together."
Back home in Ghana, many Ghanaians have lauded the President for how he has led the country's response to the Coronavirus pandemic.
Thank you for sending such a powerful message to the world, my brother @NAkufoAddo, President of #Ghana. Together, for a healthier, safer, fairer world! Together against #COVID19! https://twitter.com/nakufoaddo/status/1243833823458181120?s=21 …
Nana Akufo-Addo
✔ @NAkufoAddo
#StayAtHome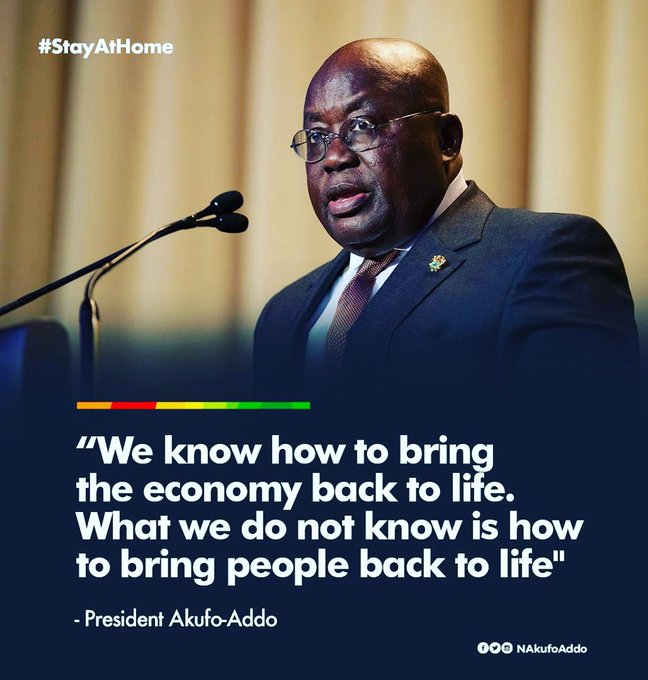 "We know how to bring the economy back to life. What we do not know is how to bring people back to life." Ghana's president Nana Akufo-Addo with admirably clear messaging on #covid19 and economy. Plenty to learn from everywhere in the world if we listen. We're in this together. https://twitter.com/nakufoaddo/status/1243833823458181120 …
Nana Akufo-Addo
✔ @NAkufoAddo
#StayAtHome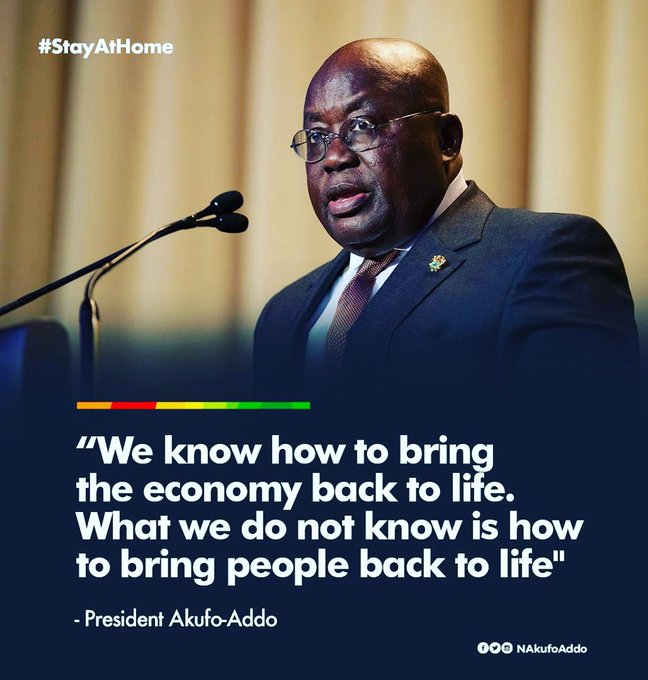 President of Ghana perfectly spells out the bottom line
https://twitter.com/nakufoaddo/status/1243833823458181120 …
Nana Akufo-Addo
✔ @NAkufoAddo
#StayAtHome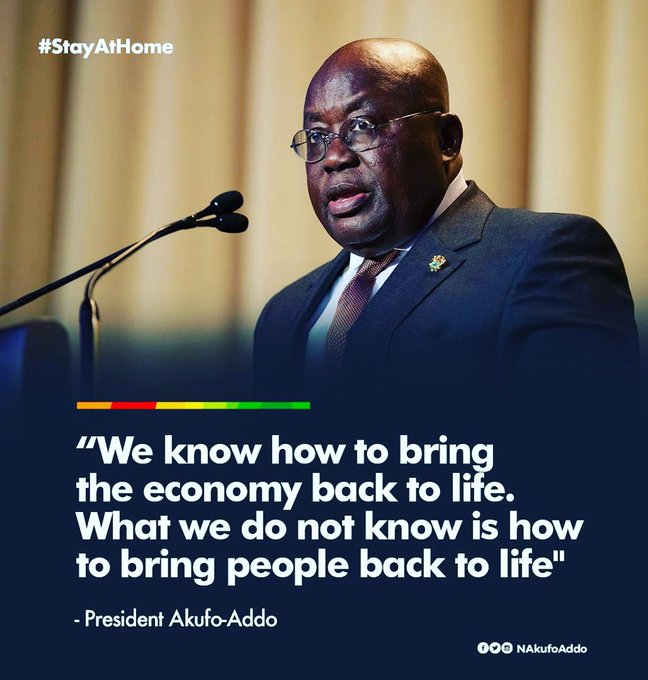 Devi Sridhar
✔ @devisridhar
President of Ghana #leadership https://twitter.com/NAkufoAddo/status/1243833823458181120 …
Nana Akufo-Addo
✔ @NAkufoAddo
#StayAtHome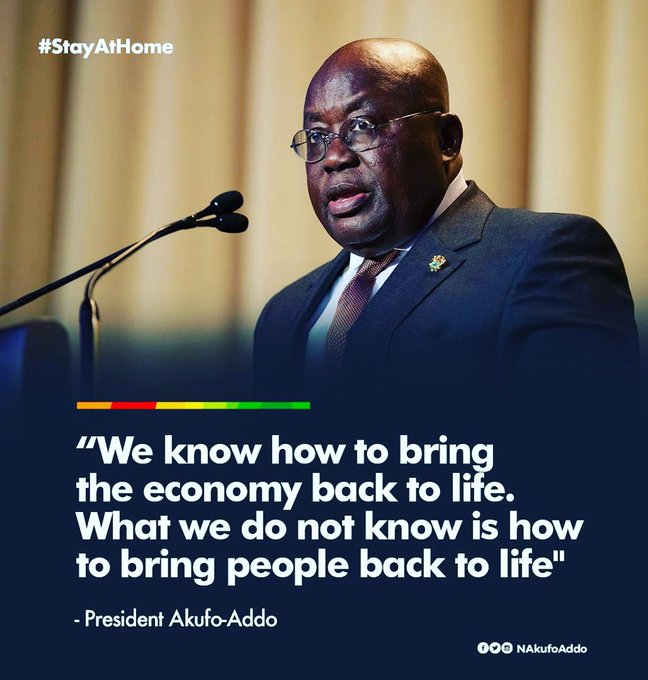 Devi Sridhar
✔ @devisridhar
President of Ghana #leadership https://twitter.com/NAkufoAddo/status/1243833823458181120 …
Nana Akufo-Addo
✔ @NAkufoAddo
#StayAtHome