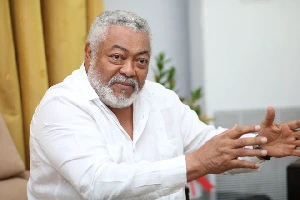 Former President Flt. Lt. Jerry John Rawlings has ruled out any possibility of his party—National Democratic Congress (NDC)—winning the 2020 elections.
He stated emphatically that the ruling New Patriotic Party (NPP) could not be easily defeated in national elections after just four years in political office, noting that it would be easier to defeat the NPP after it had stayed in office in eight years which is 2024.
Addressing the NDC National Cadres Conference at Ejisu in the Ashanti Region on Saturday, the founder of the NDC said most of the present leadership of the party also shared his views that, ideally, the NDC stands the chance of annexing political power again in 2024 and not in 2020.
Without mentioning any name, he said some NDC leaders, due to their parochial interests, had used their financial power to buy the party into their pockets so they could maintain their positions in 2024 when the NDC would stand the chance of winning the presidential elections.
"There are some among us in the leadership, who initially didn't think after four years we could wrest power from these people," the former President said, adding "and yet, if I could speak frankly, have gone ahead and almost purchased the power of this party into their pockets, claiming to be aiming towards 2020 when some of you should know that their aim is not towards 2020, because it is not easy to wrest it from these people."
Mr. Rawlings also said that after eight years in political office, the NPP would become 'weak' and the electorate would also become 'fed up' with them, adding that these natural political occurrences would work in the favour of the NDC during the 2024 polls.
According to him, some selfish people in the NDC wanted to make sure that they would still be in charge and benefit unduly in terms of political power when the NDC eventually wins the presidential elections, possibly in 2024.
Known NDC cadres such as Goosie Tandoh, Prof. Joshua Alarbi and many others, drawn from all the 16 regions in the country, attended the programme at Anita Hotel at Ejisu.
NDC General Secretary Johnson Asiedu Nketia nicknamed as 'General Mosquito' was also present but surprisingly he arrived when Mr. Rawlings had virtually completed his address to the cadres.
It was not immediately known whether Asiedu Nketia's lateness was strategic for him to refuse to listen to the 'hard truth' from the NDC founder.
Source:Dailyguid