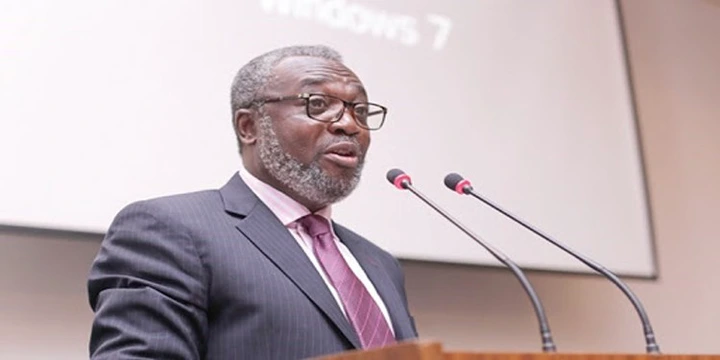 View pictures in App save up to 80% data.
The Presidential advisor on health, Dr Nsiah Asare has assured Ghanaians and the World at large, that Ghana would supply the world with COVID-19 vaccine in the next six to eight months.
Dr Asare explained that, vaccine development is one of the difficult thing to come up with, on the field of health but Ghana has made a very considerable progress.
He said, their outfit has received at least about twelve vaccine candidates that are progressing quite well.
Explaining further to Parliament, he said, the problem of vaccine development is that, it takes a number of stages, that is going through the laboratory, testing it on Guinea pigs, Monkeys before testing it on human being in a small quantities and then finally in a large manner.
Dr Nsaih further said, the most difficult moment in the development of vaccine is to test it on human beings but our country has been able to travel far in the journey of vaccine development.
" There is a lot of promise that, in the next six to eight months, there would be some vaccines available".
He further explained to the House reasons for coming up with the measures that has been put in place so as not allow the COVID-19 to spread further as some sections of our Educational Institutions has been allowed to go back and further their learning.
He said, the government and Education Ministry has decided not to open all the schools and come back like how it happened in USA, Italy and other parts of the world.
"Therefore, the most important people who are of critical need to be in school are exiting, the tertiary institutions, those in the final year in the senior High and the Junior high schools".
He explained that, the gold track were also added to it since the green track has already gone to finish their semester whilst the remaining part of the students will continue to remain at home and be made to study on the television (TV) and the digital.
The government advisor on health said, the school going pupils, especially those in the kindergarten, nursery to about primary three, these groups of children learn by playing and it would be very difficult to give children of this kind a face mask to wear in order to protect themselves from the spread of COVID-19 pandemic.
Dr Asare who led the COVID-19 team to Parliament on 25 June, 2020 explained their presence in Parliament that, his team was invited by Parliament to brief the House and Ghana for that matter on our current status as a country of the Coronavirus pandemic.
Source:Kwabena Ahwireng Martin.
Source:
foxfmonline.com